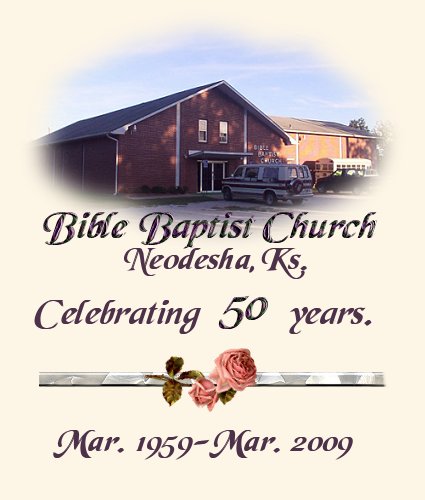 Bible Baptist Church has been my church home for almost 50 yrs.
I started attending as a teenager,and after we were married Delbert started
attending also and we have been there since that time.
This coming march will be the 50th anniversary of our church.
Since our church has been the foundation for our lives and family, the purpose
of this page is to let you know about it and what it stands for.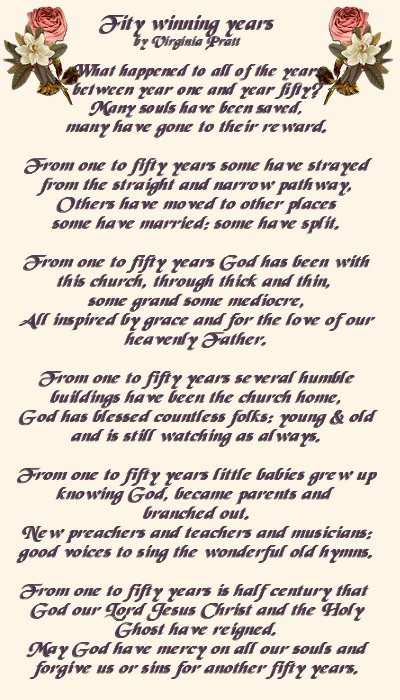 On January 24th, 1956 a group of people from the Bible Baptist church in
Fredonia rented a laundromat at 1005 Main st. $25.00 per month
to start Bible Baptist church of Neodesha.
The first service was February 5th 1956.
First Church building
A loan from Bible Baptist church of Fredonia made it possible to
purchase the former First Christian Church building and on March 22, 1959
Bible Baptist Church was organized with 33 charter members.
Rev. James Faulkenbury was the first Pastor.
Charter Members
| | | | |
| --- | --- | --- | --- |
| Mrs. Hazel Moore | Mr. Maynard Pence | Mr. Estel Bennett | Mrs. Emma Bennett |
| Mr. Walter Scott | Mrs. Walter Scott | Mr. Ray Fleenor | Mrs. Helen Fleenor |
| Mr. Lawrence Baker | Mrs. Mary Baker | Mrs. Zelma Ballard | Mr. Lester Sink |
| Mrs. Grace Sink | Mr. James Faulkenberry | Mrs. Bernice Faulkenberry | Lawrence Bennett |
| Curtis Bennett | Joyce Bennnett | Ruby Ballard | Everett Ballard |
| Ernest Ballard | Betty Faulkenberry | Jo Ann Faulkenberry | Leonard Bennett |
| Jack Coltrain | Mrs. Naomi Garber | Mr. Bill Willard | Mrs. Bill Willard |
| Mr.& Mrs.Ralph Bennett | Charles Bennett | Raymond Bennett | Kenneth Bennett |
Sunday morning in the early 60's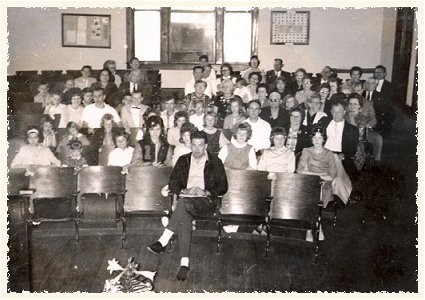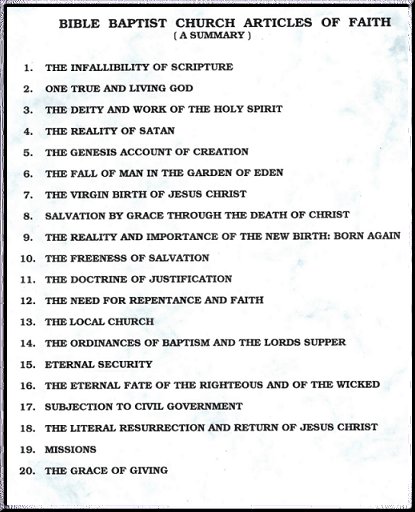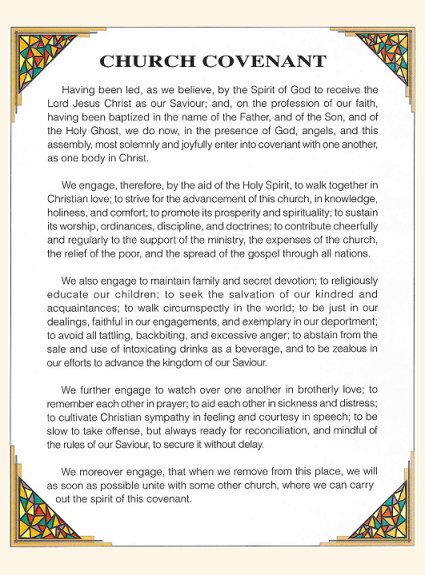 The first 25 years were prosperous years with many people saved and
added to the Church. April 5, 1966 the first buses was purchased, a 1958
chevy and a 1953 GMC. The GMC was loaned to Calvary Baptist in
Parsons and May 1st. was the first bus route. Bro. Wayne and Virginia
Prosser were the bus workers and had 18 the first Sunday.

In Nov. 1968 when C.L. Scott was pastor, the church purchased land
on north 4th. street and begin building our present building.
construction Feb. 8, 1970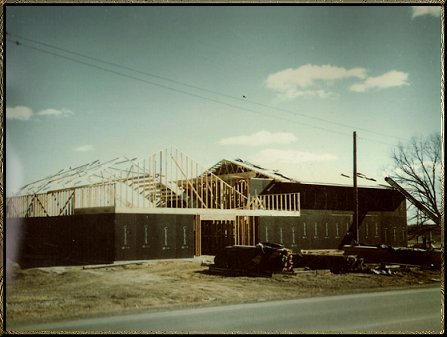 Our Church has always been blessed with musical talent.
This is our girls ensamble in 1983. Back row.
Terresa Norris, Rhonda Page, Tonya Page, Teresa Cannon.
Front row.Jennifer Bennett, Tammy Cannon, Patricia Bennett.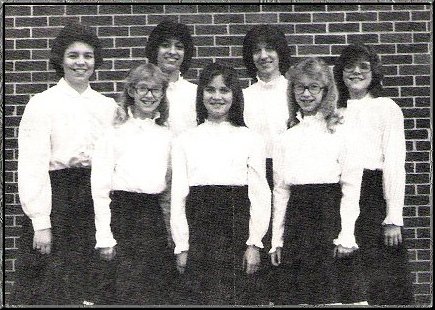 In 1984 we celebrated the 25th anniversary of the Church with a 10 ft. tall
cake that I made with the help of the men of the church making a form to place
the cake on. All the edges were cake and the top section. We had
a high attendance of over 200.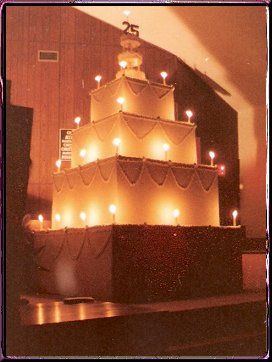 Our first Pastor James Faulkenberry and Bernice
and
Our Pastor at that time John Page and Charolotte.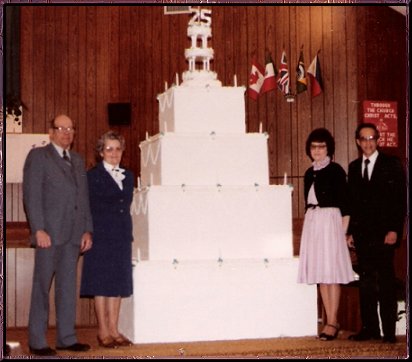 Pastors that have served the church.
Pastor James Faulkenberry Mar. 22,1959-Jan.17,1965

Pastor John Page June 1, 1975-May 30,1989


Pastor Larry Landis Sept. 30, 1973-May 25, 1975
Pastor DeWayne Prosser June 1, 1989 to present
Pastor K.B. Murray Feb. 7, 1965-Oct. 1, 1967
Pastor C.L. Scott (not pictured) Nov.8,1967-Sept. 23, 1973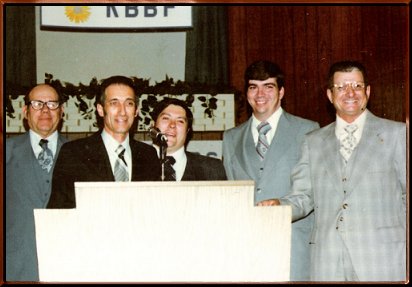 Past Pastors and their wife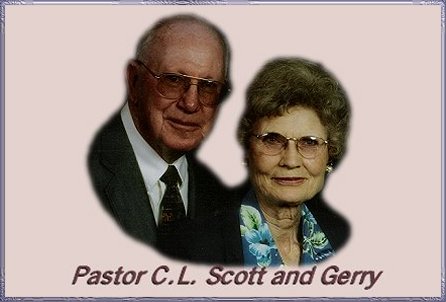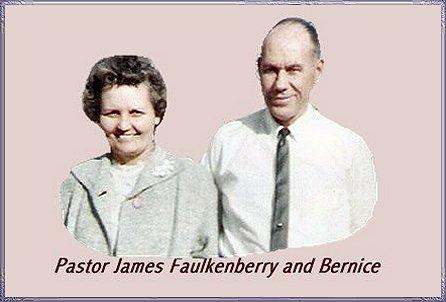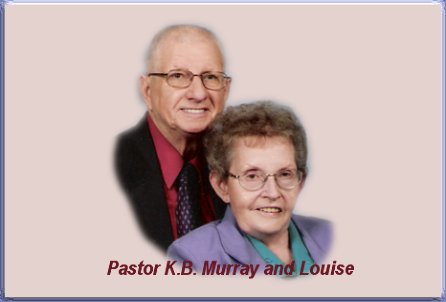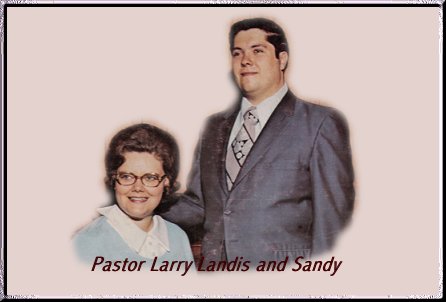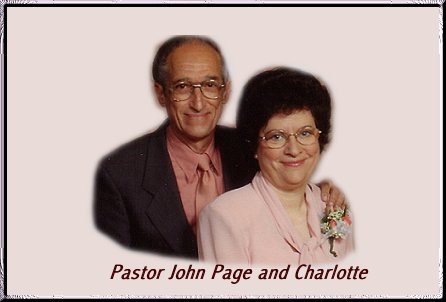 Bible Baptist Church of Neodesha has played an important part in the
ministries of several men who were lead by God to preach the gospel.
Ordinations approved by Bible Baptist Church
Art Sims
John Tyner
Richard Carson
Brent Johnson
Bill Campbell
Jeremiah Morris

Licenses to preach granted by Bible Baptist Church
Lawrence Bennett
Jeff Gardner
Jeremiah Morris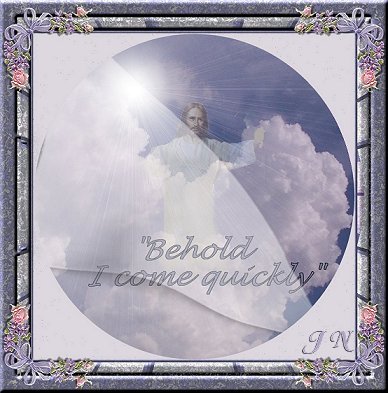 1 Thessalonians 4:13-18
But I would not have you to be ignorant, brethren, concerning them which
are asleep, that ye sorrow not, even as others which have no hope. For if we
believe that Jesus died and rose again, even so them also which sleep in
Jesus will God bring with him. For this we say unto you by the word
of the Lord, that we which are alive and remain unto the coming of the
Lord shall not prevent them which are asleep. For the Lord himself
shall descend from heaven with a shout, with the voice of the archangel,
and with the trump of God: and the dead in Christ shall rise first:
Then we which are alive and remain shall be caught up together with them
in the clouds, to meet them in the clouds, to meet the Lord in the air:
and so shall we ever be with the Lord.
Wherefore comfort one another with these words.

John 14:6
I am the way, the truth, and the life: no man cometh unto the Father, but by me.

Romans 10:9-13
That if thou shalt confess with thy mouth the Lord Jesus, and shalt believe in
thine heart that God hath riased him from the dead, thou shalt be saved.
For with the heart man believeth unto righteousness; and with the mouth
confession is made unto salvation. For the scripture saith, Whosoever believeth
on him shall not be ashamed. For there is no difference between the Jew and
the Greek: for the same Lord over all is rich unto all that call upon him.
For whosoever shall call upon the name of the Lord shall be saved.

Are you ready?

Our present Pastor and wife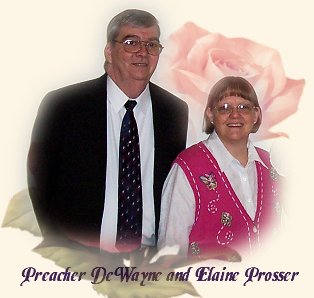 Bible Baptist Church
1100 North 4th. St. Neodesha, Ks. 66757
620-325-2104